Jackson EMC contribution will help INK construct state-of-the-art facility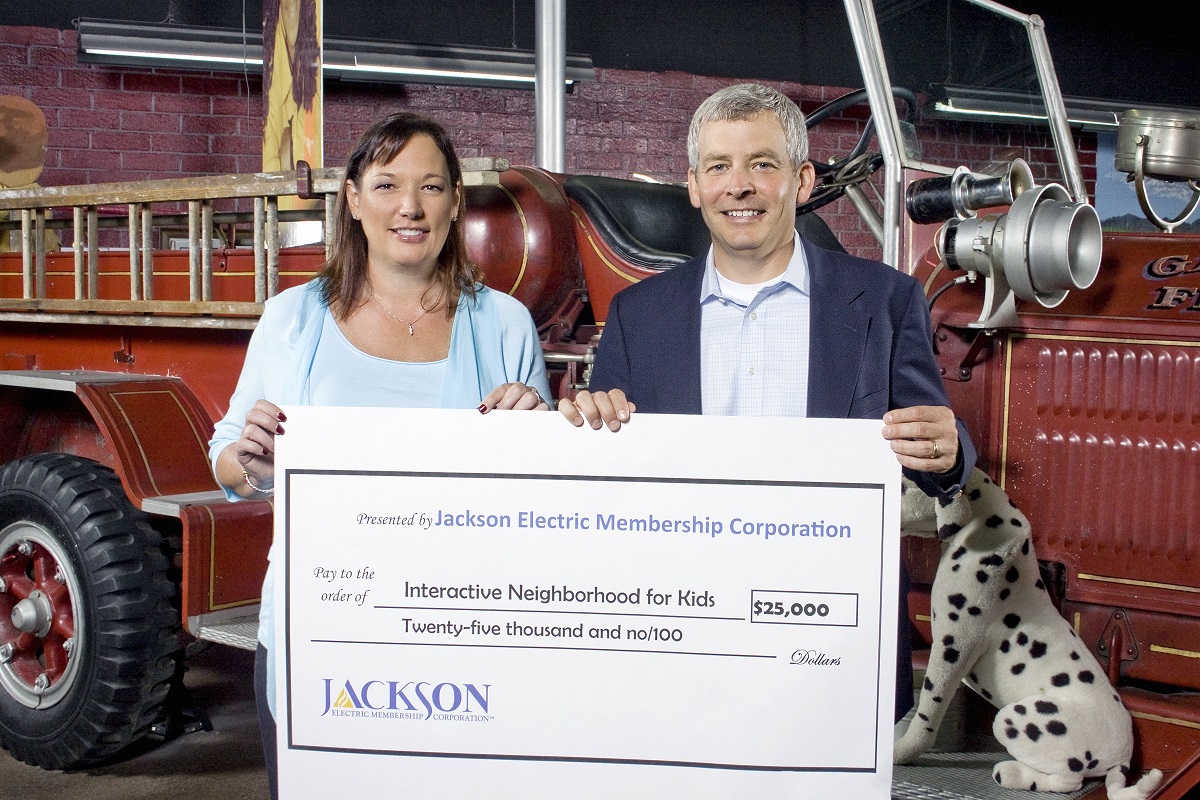 (Jefferson, Ga., October 9, 2014) Jackson Electric Membership Corporation (EMC) has donated $25,000 to Interactive Neighborhood for Kids' (INK) capital campaign, helping the Gainesville nonprofit move closer to its $2 million goal to build a state-of-the-art facility that will serve as its new home.
"INK's mission is to encourage children of all ages to develop their full potential through exciting, hands-on learning activities. While our operations are currently self-sustaining, our visitor numbers continue to grow. Nearly 70,000 patrons visited our facility in 2013," said Sheri Hooper, INK founder and executive director.
INK's success over the past twelve years has caused it to outgrow its current space in Gainesville's Featherbone Communiversity. INK launched a capital campaign this April to raise the necessary funds to build a new facility on a site situated along Friendship Road in Flowery Branch, Georgia. "The Flowery Branch location is strategically located between Hall and Gwinnett counties, and will enable us to reach nearly 420,000 school-aged children per year," noted Hooper.
"INK provides fun and innovative learning opportunities for children that link what they study in the classroom with hands-on exhibits that allow them to role-play and experience real-life situations. It not only unleashes their creativity, it can help direct them to careers in areas they've experienced at INK. We're excited to help fund such a unique educational program," commented Jackson EMC president/CEO Chip Jakins.
The Jackson EMC donation comes from margin refunds that have been unclaimed by the electric cooperative's members. Legislation passed in 2005 permits Georgia electric cooperatives to make charitable and economic development contributions of margin refunds that remain unclaimed by former members after a specified period of time. Jackson EMC is a member-owned, not-for-profit electric cooperative providing power to more than 214,000 meters in 10 Northeast Georgia counties. Founded in 2002, INK strives through the exhibits of its museum to create a unique environment in which children of all ages, abilities and experience can feel free to imagine, create and explore beyond their dreams.
For information on INK programs, please call 770-536-1900.
# # #
Photo: Investment in learning – Interactive Neighborhood for Kids (INK) Executive Director Sheri Hooper accepts a $25,000 Jackson EMC donation from the cooperative's Senior Commercial/Industrial Marketing Representative David Lee. The donation will go towards the museum's capital campaign to build a new, state-of-the-art facility.